The Turntable rotates CW & CCW to sort various coils into customer packages. Turntable stations are color coded to make coil package sorting quick and easy. Pressing a color coded pushbutton commands the corresponding color Turntable segment to travel the shortest way to the stacking station. The stacking cycle is fully automatic. A "multi-grab" program can be used when stacking narrow coils. The program shortens coil-to-coil cycle time by allowing the Stacker to collect a programmed number of narrow coils before traveling to the stacking station.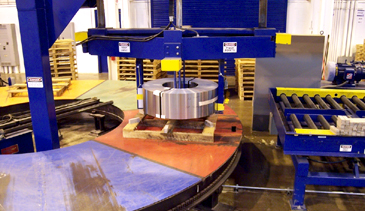 Coil deposited onto pallet at the Turntable stacking station.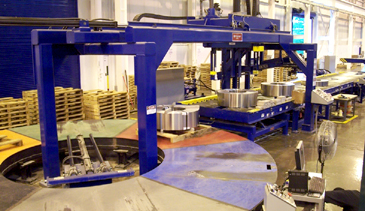 Second coil is centered in the Stacker awaiting transport to the stacking station.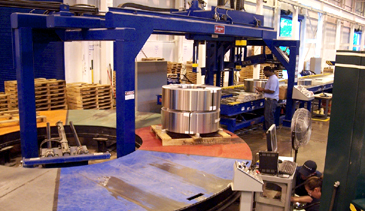 Two-coil package completed at the stacking station.
Pack Weigh Station: The finished coil package is rotated to the Turntable discharge station in-line with a Weigh Station where the pack weight is displayed on a digital readout and printed. A hydraulic cylinder powered package pushoff transfers the package from the Turntable to the Weigh Station. After weighing, the pack is conveyed to an unload station where it is removed from the line.
Stretch Wrapping: Completed coil packages can be wrapped for shipment on a free-standing Stretch Wrapper that services slit coil packages from the Packaging System and large palletized coils.
Exceptional productivity, outstanding support and bullet-proof reliability made ThyssenKrupp's selection of a Braner/Loopco Automatic Slit Coil Packaging System a "no-brainer."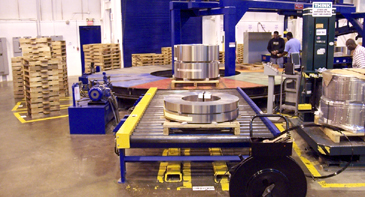 Two-coil package positioned for discharge from Turntable.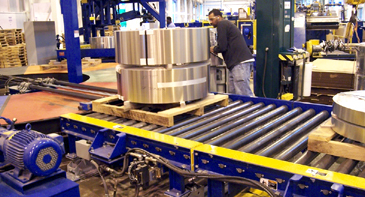 Completed package discharged from the Turntable onto the Weigh Station.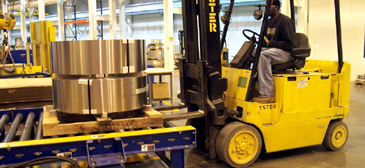 End of the line, where completed coil packages are stored and removed.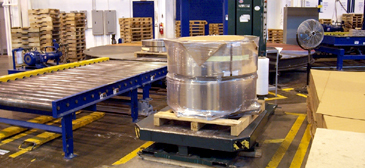 Free-standing Stretch Wrapper applies protective wrap for shipping.



ThyssenKrupp Materials NA
1715 Woodland Drive
Saline, MI 48176
phone: (734) 429-6120 fax: (734) 429-4149
www.thyssenkrupp.com